DPF "Diesel Particulate Filter" Professional Removal.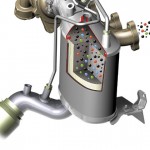 DPF or diesel particulate filters are a filter that are built into the exhaust system on most cars now.  These trap soot particules whilst urban driving and are burned off when the vehicle is driven for a longer journey usually at speed on a motorway.  For most of us this does not apply as we neither have the roads nor the time to do this.  Until now we have had to spend between 600 to 1600 pounds to get these replaced only for them to fail again.  Most will be refused warenty as its "down to your style of driving" or "you're driving too slow".
Castlederg Auto Electrics now have the most comprehensive DPF removal file system anywhere, developed by professionals who understand the system from the inside out.  This means that after the DPF file is remapped from the vehicle a standard exhaust can be used or the existing exhaust can be modified and refitted.  Yes its that simple.
Do it once… do it properly!